Our Services
Before we start landscape maintenance on any new property in Athens, we review the property and assess all aspects of the property's landscape, turf, trees, shrubs and annual plants.
This is done to locate troubled areas: diseased turf, irrigation and drainage issues, and areas that need improvement. We then, develop a comprehensive plan to meet the customer's requirements, budget, and improve the property's appearance.
Seasonal Color


Seasonal color is the first thing people see when they see your property. It is bright, colorful and attracts the eye. We understand this and use it to create a favorable first impression. We install, monitor, and maintain seasonal color for our customers throughout all seasons.
---
Mulch and Pinestraw 
enhance the attractiveness of landscapes by providing uniform coverage and setting a neutral background that allows plants to standout.  They also conserve moisture in the soil by reducing evaporation helping to conserve water. Pinestraw and mulch also act as a deterrent to weeds and grass growing in beds and to erosion.
---

Mowing


Mowing is one of the most important practices for proper turf management. By not cutting more than 1/3 of the growing height, grass remains less stressed, healthier, and more attractive. Depending on property requirements we either bag clippings for aesthetic purposes or when possible mulching mowers will be used to recycle clippings to reduce the amount of fertilizer needed.
---

String Trimming and Edging
 


give properties a crisp, clean, finished look. We edge concrete, sidewalks, and bed edges to keep grass from creeping into undesired areas.
---

Pruning and Shearing Hedges


to maintain shape and healthy growth patterns are done at least three times each year. Our employees are knowledgeable about the different plants in our area and will hand prune or shear according to the individual plant. We also limb trees to keep walking areas clear and prune ornamental trees to maintain proper shape.
---

Blowing


the property clear of clippings and other landscape debris is the last thing we do before we leave a property to maintain a clean environment for our customers.
---
Weed Control and Hand Weeding


are essential to keeping property appearance at its best; therefore we make this a priority. We excel at maintaining a weed free environment.
---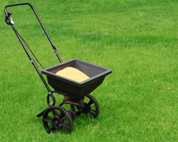 Fertilizing


is necessary to maintain health and beauty in plants and turf to enhance the customer's property.  We take soil samples and monitor weather patterns to use the appropriate fertilizer at the best time.
---